Durga Puja is a time to come together as a country and celebrate the many colours of rich and vibrant tradition, rituals, and culture which has held us all together for centuries. When it comes to Durga Pooja, people assume that it is only celebrated in West Bengal. Although it is at its prime in West Bengal, the rest of the country also give equal importance to the festival.
1. Kolkata, West Bengal
When we talk about Durga Puja, not mentioning Kolkata would be just unfair. Kolkata is the most famous city for Durga Puja. From pandal hopping to eating sumptuous Bengali cuisines, from wearing new clothes to visiting relatives and friends, Durga Puja is all about fun in this city. The city looks stunning on these four days of Puja. No matter at what time you are going out of your home, you will always find people having some of their best time during these days. Durga Puja will be observed from October 1, 2022, to October 5, 2022. With October 1 being the first day of Durga Puja and October 5, the 5th day. Druga Puja is also known as Durgotsava. Durgotsava refers to all five day's festivities.
2. Ahmedabad, Gujarat
This land of Mahatma Gandhi celebrates this festival with fireworks. However, they
celebrate the festival to remember Lord Ram killing over Raavan. You can find fireworks throughout the night. Many stages will be erected to perform drama, dance or songs to recite the life of Ram, struggle of Sita and the victory of Ram. You can find the traditional dance of Dandiya in several places during this festival. Top places to enjoy a cultural vacation here is Laxmi Vilas Palace, Navlakhi Ground, Sarkhej-Gandhinagar highway and others. By the end of the night, a large Raavan structure is made with hay and fireworks. A person dressed as Lord Ram, lights up the structure and people watch the demon burn into ashes with spiritual bliss.
3. Bengaluru
North India is also the main place to enjoy Durga Pooja. However, this does not mean that the southern part of the country does not follow this tradition. The Goddess Durga is worshiped throughout the country and Bengaluru is an important destination for the same. The main Durga Pooja pandal can be found inside the Socio cultural association located in Indranagar. The best part of this pandal is the ritual performances, beautifully carved Durga statue and delicious delicacies like Kobiraji cutlet, Luchi Mangsho and others. If you want to spend more time here, you can enjoy Cubbon Park, Film City, Banaglore Palace, Ulsoor Lake and others.
4. Hyderabad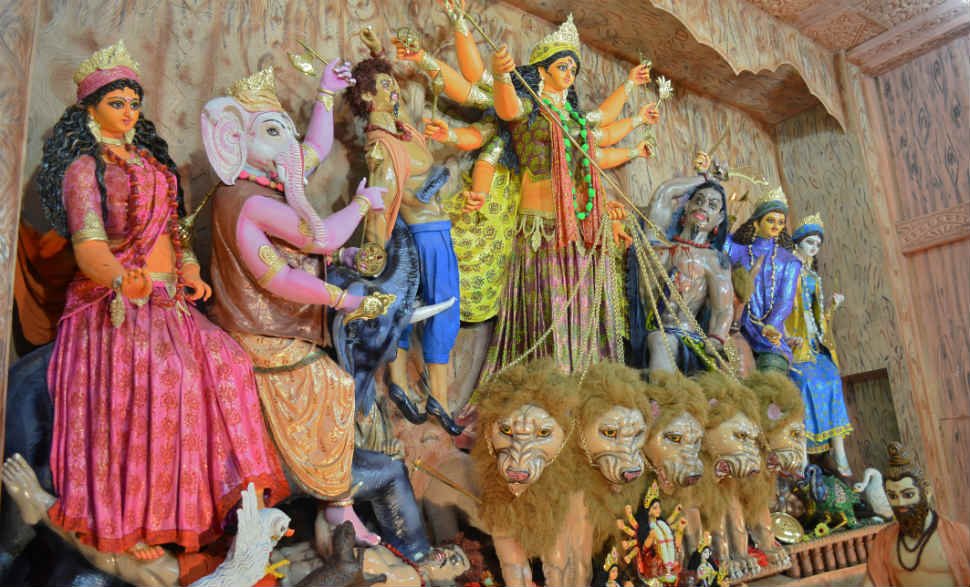 The land of Nawabs should not be taken lightly when it comes to celebrations. Durga Pooja is celebrated with grand and culture in the city for several decades. The best of all is the Hyderabad Bengali Samity, which is located in Domalguda. The rituals are taking place in this region since 1942. Heritage and culture are expressed in this celebration. Do not forget the tempting list of delicacies. If you are looking for activities around the pandal, choose to enjoy a boat ride on the Lake Hussain Sagar, explore Golconda Fort and enjoy the film city.