'East or west, Guilin landscape is best!' With magnificent karst mountains reflecting on its many rivers and lakes, Guilin has a breathtaking mystical allure that attracts millions of local and foreign travelers every year. Being both a countryside and a city, Guilin maintains China's rich traditional culture, making it a great place to learn more about Chinese culture as a whole.
Guilin Liangjiang Airport (KWL)
Guilin's beauty has been well-known in China since ancient times, and it has enjoyed growing popularity among international travelers in recent years. To help accommodate growing numbers of visitors, Guilin Liangjiang International Airport (KWL) now receives regular flights from most major mainland Chinese cities as well as from Hong Kong, Bangkok, Kuala Lumpur, Osaka, Seoul, Singapore and Taipei. An airport bus service leaves from outside the airport and will drop you south of the city center. From there you can board a taxi to your hotel without much hassle.
What To Eat
Local food is influenced by the food of Canton, Sichuan, Hunan, Zhejiang, Jiangxi, and Fujian. In recent years, Sichuan and Cantonese dishes become the most popular. From splendid restaurants to local snacks, tourists from around the world are sure to find that your need is met beyond your expectations. The most popular local snacks include rice noodles (mifen), nun noodles, chestnut glutinous rice dumplings (banli zong), stewed duck with gingko, lotus-leaf duck and stewed duck with ginger.
Things to Do in Guilin 
Cruise the Li River: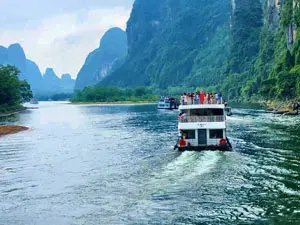 You will have a true sense of classic China as you relax on a cruise boat and appreciate the jade waters and bamboo-lined banks of the Li River, meandering among jutting karst peaks.
There are cruise boats to tour the river, and also motorized "bamboo" pipe rafts with seats and a canopy. The cruise takes half a day and the start time requires you to stay for one night in Guilin. The raft tours take about 1 hour on the most renowned stretch of the Li River but the outboard motors are noisy.
2. Visit the Rice Terraces and minority Villages: China Highlights Customers talking with a local women in Longji rice terraces look like great chains or ribbons as they wind around the contours in tiered bands. The ethnic minority villages are also worth exploring. The Longji area is about 70 kilometers (40 miles) from Guilin, near the tallest peak in South China. There are bumpy country roads and a highway. Most travel agencies use the winding country roads. We use the highway, which is much safer and more comfortable, and it will save you about 1 hour's journey time.
3. Nightlife in Yangshuo's West Street: West Street is a very busy shopping street with hundreds of restaurants, souvenir shops, disco clubs, and bars. This street is quiet during the day, with clothing shops and food venues open to the curious eye. But at night, it is completely different. When the evening arrives, tons of bars open with live music and karaoke. It's a noisy place with Chinese and foreign tourists as well as loud music at night, but it is still a great atmosphere if you like this type of entertainment.
4. Watch the River Night Show: The Impression of Third Sister Liu is a spectacular nighttime show with colorful lights, music, and folk songs, all staged on the Li River. It's a very nice show that is staged mainly against the natural spectacular backdrop and has about 600 performers. It was made by the same man who organized the show for the 2008 Beijing Olympics – Zhang Yimou. If you are interested, you can ask for help from your guide who can arrange the ticket and transfer for you.
5. Eat Guilin Rice Noodles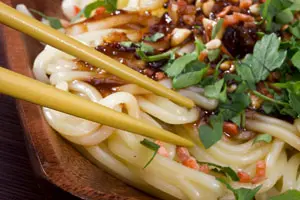 Rice noodles are the most popular type of local snack in Guilin, and local people consume them for breakfast, lunch, or dinner. Guilin rice noodles can probably be found within 100 meters of any town or city corner here.
Our guides, who have lived in Guilin for over 25 years, can lead you to find the most authentic restaurants hidden in the backstreets.
6. Visit an ancient Buddhist cave temple: Guilin's magical karst mountains are well-known, but the fact that many of these mountains are riddles with extensive maze-like networks of winding caverns comes as a surprise to many. Guilin's caves have been put to a variety of uses over the centuries, serving as hideouts for rebel soldiers, wine cellars, practice spaces for bands, underground basketball courts, restaurants and temples. Zhusheng Temple represents a truly unique and creative use of the natural caves present inside one karst mountain nestled behind Seven Star Park along the same road as CLI.
Traveling in Guilin and the surrounding countryside is thrilling, eye opening, and enlightening. Guilin is a remarkably safe city where the locals are always happy to help. As you're wandering the streets of Guilin, here are a few telephone numbers and an address that you'll want to keep handy just in case.